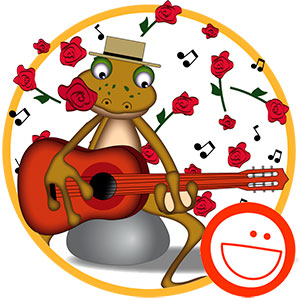 The Froggy Bands

| Stickers Instrumentos musicales para iMessage

¿Buscas stickers con instrumentos musicales como batería, celo, violín para tus mensajes interactivos?
Descárgate los músicos de The Froggy Bands, ahora también disponibles para iMessage. Expresiones, instrumentos, divertidos músicos, guitarra, flamenco, blues, gospel, batucada,… Descúbrelos todos en iMessage.
Felicita y chatea con tu familia y amigos de una forma original y divertida.
Disponible en:

Cuentos digitales y juegos educativos para dispositivos móviles para niños y niñas de 4 a 8 años.
Nuestros juegos digitales se completa con recursos tangibles para que el aprendizaje sea más significativo.