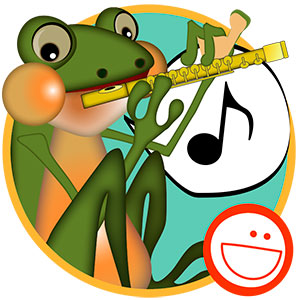 The Froggy Bands | Music Games
Are you looking for interactive games to train musical intelligence?
The Froggy Bands is available for iOS and Android devices on:
With The Froggy Bands, little musicians, from 4 years oldwill enjoy interactive games such as: 'puzzle of sounds', 'play the drums', 'recording beatboxing', 'crear a chor' and many more games always full of drawings, melodies and noises that arouse curiosity and inspire imagination.
In the colorful land of The Froggy Bands you'll find 10 different musical bases with more than 40 instruments, sounds to learn and many games for children, which will introduce them to the magical world of music.
Educational purposes of The Froggy Bands, music games, are:
Learning to listen and identify different instruments based on their sound
Learning to classify instrument families (strings, brass and percussion)
Practically learning the characteristics of various musical genres such as those for a classical orchestra, batucada, jazz, flamenco, beatboxing…
Associate instruments' sound with their shape (auditory recognition)
Discover interesting facts about the instruments and musical genres through games: play the drums, learn the basic notes, play the piano, match each sound with its instrument, prepare the Froggy Bands for the blues concert, …
10 musical themes
More than 40 different musical instruments to train memory and attention span
Musical vocabulary in English and Spanish
Play without Wifi or Internet.
WE DON'T STORE CHILDREN'S INFORMATION. WE RESPECT YOUR FAMILY'S PRIVACY
Without third-party advertising or in-app purchases
Parental Control – we follow the COPPA law
Digital stories and educational games for mobile devices for boys and girls from 4 to 8 years old.
Our digital games are completed with tangible resources to make learning more meaningful.